Social Networking Website Development
Social media, or social networking sites, as they are popularly known to be, are the websites with the aid of which ones can interact with people of similar likes and dislikes. Barging into huge popularity as virtual platforms for casual sharing and communication, social networking sites today perform as effective medium of business advertisement and propagation.
Be it as medium of advertisement or interesting interfaces helping in befriending with ones at the other end of the globe - thriving numbers of visitors to social media sites explain the tremendous popularity that these web identities enjoy.
SynapseIndia develops social media sites equipped with video sharing facility. Our social media sites comprise several interesting and intuitive features. Some of them are,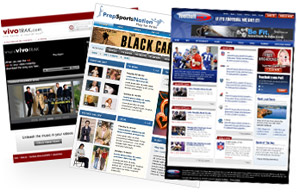 We bring you video sharing sites with features like ...
Fully customized sites - meeting your exact needs

We design and develop customized video sharing websites based on your specific tastes and preferences

Embeddable flash video player - now uploading is all so easy

We can integrate scripts using embeddable flash video player with full-screen support. This will enable your users to insert videos on to their web page all too easily

Real-time video conversion - helping users watch videos minus fuss

Website members can stream videos using embedded, user-friendly flash player sans any hiccup

Video and profile rating - sharing becomes so much more interactive

Members can instantly rate and comment on videos, and create an instant channel of communication between them

Process Flow Diagram
Free/paid, easy profile creation - let them all join in-group

Charge membership fees with our automated billing system - using any payment gateway of your choice; or just let users make best use of unlimited membership plans first and later charge them according to video upload space, maximum allowable video upload per account, and more. You have the liberty to let your members use your service - all at your own convenience

Full administrative control - approve videos that meet your standards

With adjustable control, administrator can approve videos before they appear on the website. This function can be turned on and off as per your will

RSS Feeds - get linked to the most

Link your video content with RSS feeds and send categorized alerts with video (in segments like most recent, top rated, most discussed, etc.)

Detailed member profile - now space for more personal detail

Members can add photographs, videos and personal information etc. to their profile, and share more with the friends and peers

Video conversion configuration - ensuring better viewing

Configure different conversion related settings (like resample width and height, sound quality, and video bitrate). Videos are better viewed now

Live Stats - real data in real time

Show stats of total public videos, total private videos, total members, total online members, etc., all in real




Now, enjoy being ones whom people like to visit

Mail us now with further queries/requirements.