The software industry word-over has been witnessing ameliorating success in last few years with the arrival of fresh faces and new visionaries. Unlike the web 1.0 era this is not time for mere dictatorship of few big companies, rather even small start-ups are coming ahead in the name game with out of the box concepts. This made the web 3.0 revolution which in the process has laid the foundation of smarter future.
Let it be a Risk-free Endeavor!
There is a gulf of difference between hiring a company for your software requirement from among any available options over the web, and picking the right one from a list of chosen few from India. It's like having a coffee from a mundane office machine – you never know of a 'surprising good' taste, before many disappointing one – and to having it directly from Colombian hills to your house. Just like the aroma tells the difference of coffee quality, the standard of a firm tells us about their quality. It can safely be said that spending some time in the searching game is much more profitable than looking for initial money saving of few bucks by hiring lesser known name. Promises are made in hurry by many companies to lure potential customers, but one should believe in facts and stats instead of promises. When someone is handing over their software development project to a firm with all their thoughts and dreams, one must make sure that the authority taking over the projects feels the same level of bonding with the project and has got right set of skill to perform it flawlessly.
Know How to Spot The Talent
Even after years of industry experience and magnitude of management skill one can miss picking up the right company while doing the search. To make it simple few pointers are given below that must be considered:
Experience & Understanding: To deliver not only zeal is sufficient expertise and know-how is irreplaceably needed. Thus, while making a choice right grasp over the core concept of project must be respected.
Repute & Good Name: There are few names that bell the ring of being authority in our mind the moment we hear their name. This is why a well-reputed firm with good feedback for past customers must be preferred.
Flexibility: A company with flexible work culture must be the choice as they can adjust their way of doing things with your favourable style be it communication mode or delivery structure.
Confidentiality Maintenance: A company with strong policy of confidentiality has to be preferred and it is one of the most important pointers to be kept in mind. When you hire a name all your ideas and assets are with them, so it becomes a must to have a proper confidentiality agreement or policy or you might end up in a really cramped position.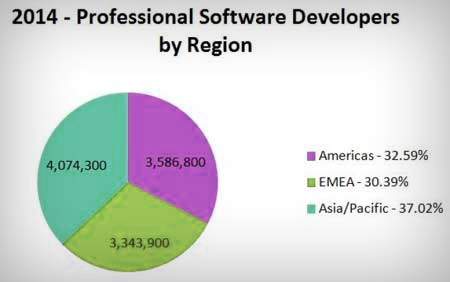 What can be a Possible 'Safe Investment'?
India is the place to look for solution – it's often the notion that keeps coming to businesses world over ear. But, without the right information of the industry and importantly the team, why would you think to try them?
Almost every software development company in India and its surrounding environment have changed a lot in last few years. It's important that keep a check of that. The area where development is very much visible is talent and support system, accelerated delivery channel, etc. According to NASSCOM, software product exports is expected to reach a staggering height of USD 1.5 billion which is almost y-o-y growth of 13 per cent. The prime factors behind this have to be the demand and usage of mobility and cloud applications by most of the SMBs based in India.
Comparing with the global industry the Asia/Pacific software developers number is the highest in the year of 2014. The share is almost 38% which is bigger than America and EMEA considerably. In this 38% share of Asia/pacific region most of the developers hail from India and a considerable number also operate based in America with headquarters in India. This tells the fact why considering a software company based in India is always the prime choice of new age entrepreneurs.