Magento Community edition is a powerful platform for any e-commerce portal that allows complete customization of the look and feel of the website. Several plugins can also be accesses via. Magento Connect to achieve the desired customization.
Unlike, Magento Go that offered email and live support for any assistance from magento team, Magento Community edition doesn't offer any official support. This edition also doesn't come with hosting option.
The field of ecommerce has seen a transformation recently with more and more businesses moving towards an online presence and opting for Magento web development.
As, Magento Community Edition offers a responsive default theme, making them mobile ready effortlessly, the importance to hire a magento developers gets minimal to maintain the plugins and templates based on your customization.
5 key features of Magento Community Edition are:
Faster indexing process
Has a much faster checkout
Handles large number of products
Much more flexible promotions and sales features
Better support for international businesses
Small businesses benefit the most with this free edition. They use the basic features and take part in development through the site forums. Many tips and tricks have been discovered to make the Community Edition more powerful. With this, even small companies can enjoy this state-of-the-art platform for free.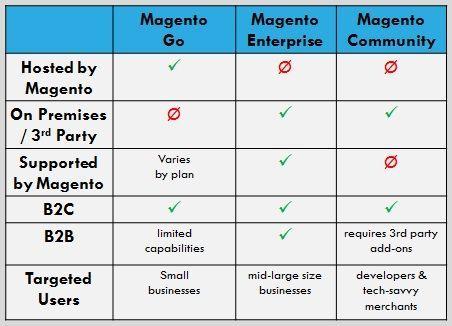 Cost
The Community Edition is free. This is perhaps the strongest feature of this version. Anyone can make modifications to the software to keep up with their system requirements.
Security
The Community Edition does not have credit card tokenization or highly secured payment bridges. These features are required by banks and credit card companies.
Performance
Many e-commerce platform users do not know that the free edition is actually faster than the other software available today. The features can already meet the basic business needs. However, businesses that need more modules may want to purchase the paid version.
Functionality
Both Community edition and Enterprise edition has the same level of depth to offer. However, with the free version of Magento edition you can't access price and promotion permission, minimum advertised price, return management authorization etc.