2016 is all set to enter in our lives & web experts have already started forecasting of trends that are expected to rule in 2016. This year web development industry has witnessed many new changes & trends that focused to offer better user interface & easy accessibility of websites. Below mentioned are some key trends that are predicted by many of the web development companies in India. Let's have a look on these: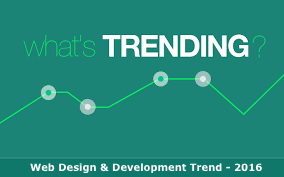 1. Longer scrolling sites
This year, we have seen that many new websites were launched that were longer in length when scrolling through the page. It is easier for users to simply scroll rather than visiting different pages to find information about single product, services or topic.
2. Storytelling & Interactions
Your visitors engage with the content available on your website. Telling a story through your content is a big plus. This is why storytelling & interactive website work as a marketing tool in itself.
3. Removal of non-essential design elements
A design is complete when all of the unnecessary elements have been eliminated.
Designers & developers have already started eliminating various design elements that are of no need at all such as background colors, complex layout and many more. Instead, they opted for a simple and clean website design.
4. Hidden main menus
Though hidden menus is a responsive web design technique, yet in 2015 some of the sites started using this technique for desktop websites as well. This enables your visitors to see more of your site than menus.
5. Large Typography
Typography plays a critical role in design. We are expected to see typography even larger than previous year. Large typography is likely to be a trend in 2016 in order to enhance the visual hierarchy of the page.