In today's fast changing marketplace, business owners are completely aware about the fact, that how important is the software development for their business growth. In industry, there are many companies which are providing the latest software development services, but packaged software development is not always a complete solution for every business needs. Whereas every business has different requirements, it is really very difficult for one product to fulfill the multiple needs, simultaneously.
Custom Software Development is the significant solution for accommodating the different business requirements. Keep these requirements into consideration, the development service provider design and developed the finest customized business application according to the demand of the clients'. These custom business applications are designed to function exactly how the business person want them to. The custom design provides a numerous advantages to the business, and helps in the growth and development of it.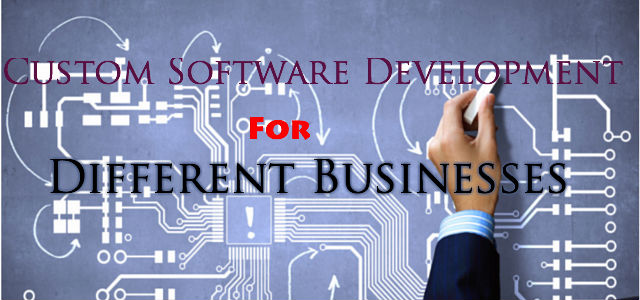 There are many companies which offer excellent services in custom software development, India. They will provide you the finest software solutions, which increases your business efficiency, increases opportunities, saves your company money. They will create and deliver the exclusive applications which can do the following:
1. Improve Communication and Collaboration
Custom software development provides superb solutions that improve the communication system at every level of a company. Thought it, the employees can share their ideas, chat with multiple vendors and customers on a unified platform, as well as ensure no lost of valuable communication. It also benefits management, as they can track workflows, assign work to different employees, and effectively share strategies and presentations, with the people in an organization who requires it.
2. Increase Productivity And Efficiency
Custom software is designed to gain more business opportunities. There are many ways custom software can enhance your business productivity. Such as, it can manage the payroll and human resources issues, allows customers to make a valuable purchase through your eCommerce platform, as well as help in tracking employees and many more.
3. Improve Existing Processes
Sometimes, your certain way of doing business is no more able to meet your expectations. This is the time to think, which areas of your business need improvement. In many cases, various aspects of the business can be modified through custom software development, which improves the efficiency and productivity of the business.