In the current scenario, the business and media perform parallelly in the digital marketing revolution. As the digital industry is growing with the time, it brings continuous changes in the online business and marketing strategies. Thus, to survive in this ever changing scenario, it is really essential that business change their marketing strategies according to the market trend, else their business looses its place in the digital market.
Traditionally, businesses get connected with the newspapers for their PR (Press Release) and for building their brand image in the market. With the time, the technology has changed and same the communication channels. Now, business person using social media channels like Facebook and Twitter, for their brand promotion. Here are powerful 4 PR trends that you can follow and apply for your business success.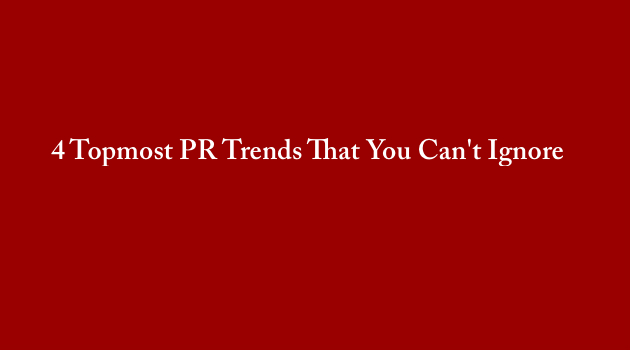 1. Online Influencer is a Marketing Force That can't Ignore
Now-a-days, the online influencer has become a core trend that PR professionals and brands are grasping. So it is really important to connect with the right influencer to get your story out, as they have their credibility in the market, as well as customers trust them and are connected with them. Now, the marketers and organization know their influencers on Twitter, Instagram and YouTube that easily can create a communications impact influence on a large scale.
2. Technology is Required to Scale Your Communications
As a large number of communications channels and digital methods are available in the market, it is essential that you have a powerful technology to scale your efforts, else you will not get any productive or effective communication system. Additionally, the technology has controlled much of the communication and publishing, but the splinter of media needs various digital marketing tools to handle the complexity.

3. Social Web is Democratizing Communications
As everyone using social network platform, you can easily create text, video and photos and post on it, as well as can easily share it through our smart phones. These social media channels have made companies a publisher in their own right, which make them to build their brand image at their own. Even, through these channels, the customers can directly connect with the brand, know about it and get influenced to use it.

4. Digital Content is Essential For PR
When it comes to unique identity in a digital media platform or in a digital market of bloggers, your online content will help you to get it. Through unique content, you can easily create credibility in a digital market. Now, the content marketing has become a center point of any brand communication and marketing, in the digital world.
Conclusion
The above PR trends will surely help you to get a perfect brand image for your business. If you are confused how to use social media platforms to enhanced your brand image, then connect with the SMO service provider. They will help you, and build a powerful brand image for your organization.